This is one of my new favorite curry dishes. I love curry, but I don't handle spicy very well. This is the perfect combination of flavor, with a hint of sweet. I got the original recipe from allrecipes.com and tweaked it just a bit. If you like curry dishes – I guarantee you'll love this!
Coconut Curry Chicken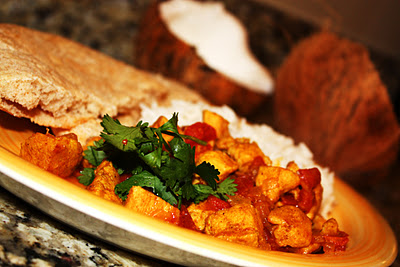 Ingredients:
3 chicken breasts, cubed into bite-sized pieces
1 tablespoon olive oil
2 tablespoons curry powder
1 onion, diced
3 cloves garlic
1 (14-ounce) can coconut milk (I always use the light variety)
1 (14.5-ounce) can petite diced tomatoes
1 (8-ounce can) tomato sauce
3 tablespoons sugar
salt & pepper to taste
optional: top with cilantro and shredded coconut


Directions:
1. Heat oil in large skillet over medium-high heat. Add in curry, onion, and garlic and saute for two minutes.
2. Reduce heat to medium, and stir in chicken. Cook until chicken is done and juices run clear.
3. Add in the coconut milk, tomatoes, tomato sauce, sugar, salt & pepper and simmer on low for 15-20 minutes.
4. Top with fresh cilantro and shredded coconut.