I found this recipe on a food blog called The Enchanted Cook. You'll have to check out her blog – she has some great recipes, and gorgeous photos! I made these pretty similar to how she did, but with a few changes. Yum!
Lime Fish Tacos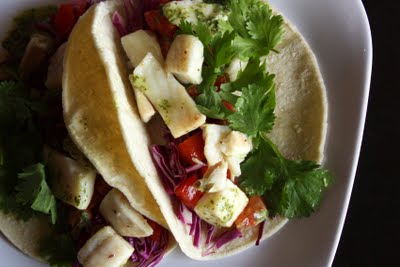 Ingredients:
1 lb tilapia fillets, cubed
8 corn tortillas
shredded red cabbage
chopped cilantro
chopped tomatoes
avocado
lime wedges
Marinade:
1/8 cup olive oil
1/8 cup fresh lime juice (about 2 limes)
1/4 teaspoon salt
pinch of pepper & paprika
Cilantro-Lime Dressing:
1 bunch cilantro
3 cloves garlic
1/8 cup lime juice (about 2 limes)
1/3 cup plain yogurt
salt & pepper to taste
pinch cayenne pepper
Directions:
1. Combine marinade ingredients and add in cubed tilapia. Marinate 15-45 minutes in the refrigerator.
2. Preheat oven to 400 degrees. Drain fish, and place in a shallow baking dish, and cook for 15-25 minutes, or until done and flaky.
3. Meanwhile, combine dressing ingredients in a blender or food processor and blend until pureed.
3. Serve fish on corn tortillas with dressing, cabbage, cilantro, tomatoes, avocado, and a squirt of fresh lime juice.