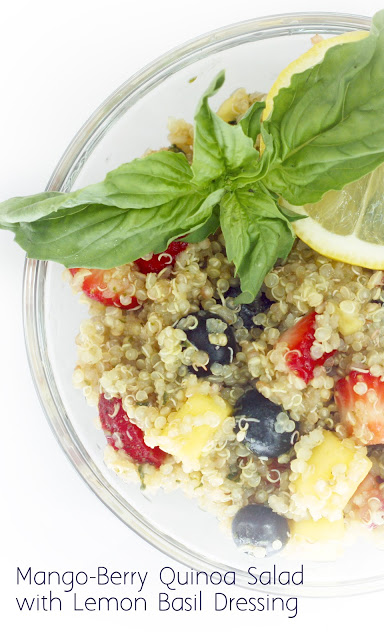 This dish pretty much sums up all of my current food obsessions. I bought a 4-pound bag of organic quinoa from Costco last week, and have been trying to think of creative ways to add it into our meals, especially in dishes the kids will eat.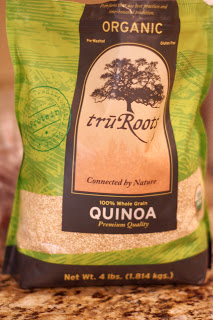 Quinoa itself is pretty bland, and tasteless – but it really adds a neat texture, color, and wonderful nutrition when added to a recipe – taking on all of the flavors around it.
If you have never cooked with it – think of it kind of like oatmeal. You wouldn't put a bowl of plain oatmeal in front of the family and expect them to eat it and love it, but add some fruit, and a little cinnamon and honey – and it's a great, wholesome breakfast.
Which – is where I got my inspiration for this salad. We see a lot of savory recipes that use quinoa, but I haven't seen too many sweet. I have also been incorporating lemon and basil into just about everything I can think of lately – and I thought that the combo would really freshen and sweeten the fruit even more.
This simple salad is so versatile – I had a little bit of the leftovers warmed up for breakfast, also great as a salad with dinner, a snack for the kids, or even a healthy dessert!
This is a great way to step up any fresh-fruit salad, adding nutrition and unique, fresh flavor. I am sure this will be a regular for us this summer as more fresh fruit comes into season!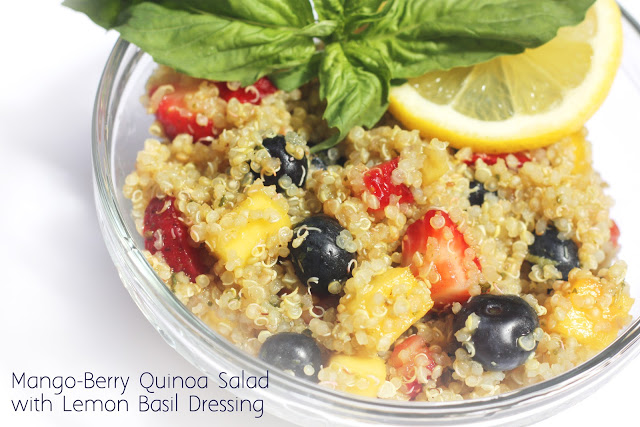 Mango-Berry Quinoa Salad with Lemon Basil Dressing
(this makes a pretty big salad – more potluck sized, I would probably cut it in half for a family)
Ingredients:
1 1/2 cups uncooked quinoa, rinsed VERY VERY well
2 1/2 cups water (more or less)
zest from 1/2 lemon (about a teaspoon)
3 cups dicced fruit (I used mangoes, strawberries, and blueberries)
handful of basil – about a 1/2 cup, loosely packed (plus more for garnish)
1/4 cup honey
1-2 lemons
Directions:
Rinse quinoa very well, until water is perfectly clear. In a medium saucepan, add quinoa, water, lemon zest, and stems from basil. Over medium-high heat, bring the quinoa to a simmer. Once it begins simmering, remove basil stems, and cover. Continue to simmer over medium heat for about 15 minutes, or until the water is absorbed. Add more water while cooking, if necessary.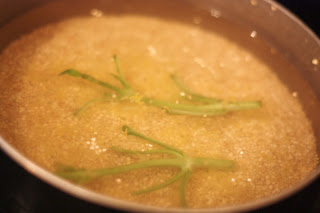 When the quinoa is finished, fluff it with a fork and allow it to cool, uncovered while you prepare the sauce and fruit.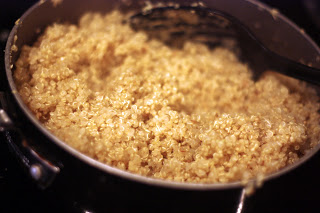 Add a handful of basil leaves to a mortar and pestle, and crush until a paste is formed. (I had about 1 Tablespoon.)
If you do not have a mortar and pestle – you could either mince the basil by hand, or throw the basil, honey, and lemon juice all in a food processor or blender.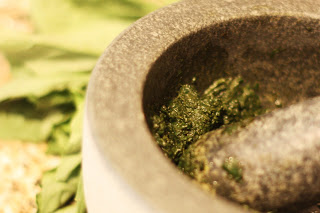 Wisk honey and lemon juice into the basil paste.
Prepare fruit by dicing into uniform-sized pieces.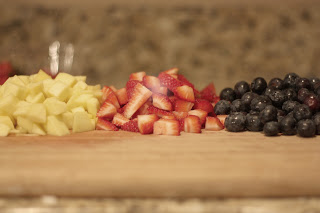 In a large bowl, combine fruit and sauce. Stir to coat.
Then, add in the quinoa. Chill for at least two hours, stir again before serving.