I don't know how I went so long without it, but I recently decided to try out a dough enhancer. When I couldn't find any at the grocery store – I decided made my own using the recipe at Chickens in the Road. I only made one substitution of Ball Fruit Fresh for ascorbic acid/vitamin C crystals, mostly because it was about $16 cheaper.
I really can't believe I have been baking bread for so long without using a dough enhancer. Seriously, it is incredible what just a little bit can do to a simple loaf of bread. Homemade bread is so good, but homemade bread with a little help of an enhancer is even better. It's kind of hard to explain the difference – trust me, just try it out and see for yourself. Your bread will be lighter and have better texture. It will stay fresh longer, and not crumble on the second day. The enhancer will make your loaf taste more like store-bought pre-sliced bread, but much much better – since it is fresh from your own oven.
Dough Enhancer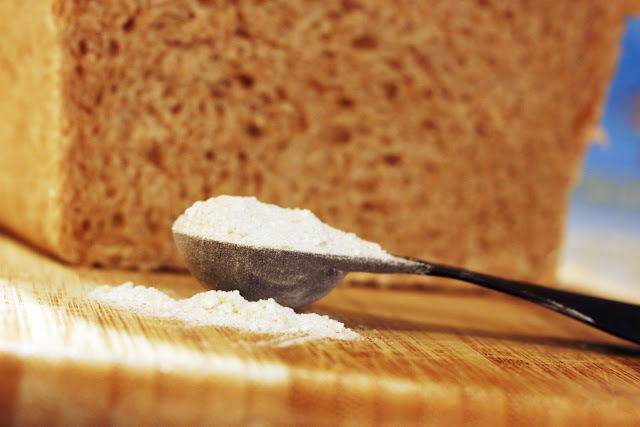 Ingredients:
1 cup wheat gluten
2 tablespoons lecithin granules
1 teaspoon ascorbic acid/vitamin C crystals or 1 teaspoon Fruit Fresh Produce Protector
2 tablespoons powdered pectin
2 tablespoons unflavored gelatin
1/2 cup nonfat dry milk
1 teaspoon powdered ginger
Directions:
1. Mix all of the ingredients together and store in an airtight container in the refrigerator.
2. Add 1 Tablespoon for every cup of whole-wheat flour, and 1 teaspoon for every cup of white flour along with the flour in your bread recipe.
This article from the Bread Machine Digest does a great job explaining how different ingredients help to enhance a dough.