These little cookies are as simple as they look. They are fun, festive, and easy to make. I found the idea on Disney Family Fun. We included them with some little Christmas packages we made this year. Next time, I might be adventurous and see how caramel-filled kisses hold up. 🙂

Pretzel Kiss Cookies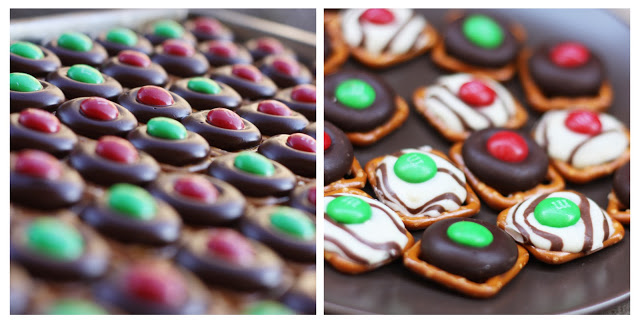 Ingredients:
Square pretzels (my package calls them Snaps)
Hershey Kisses or Hugs
Plain M&M's
Directions:
1. Preheat oven to 170-degrees.
2. Line pretzels in a single layer on a baking sheet. Top each with a Kiss or Hug.
3. Bake for 3-8 minutes until the chocolate is soft, but not melted. Keep checking the chocolate every 30 seconds or so after 3 minutes by poking it with a toothpick or fork – it will melt at a different length of time depending on the type of chocolate – I used Hugs and dark chocolate Kisses, the Hugs melted much more quickly.
4. Once the chocolates are soft, take them out of the oven and press an M&M into the center of each Kiss. Let cool completely before moving, chill in the fridge or freezer for a few minutes, if necessary.