We try to feed the kids a healthy breakfast. But, I'm kind of lacking in my variety of what I make in the morning. Usually, our default is scrambled eggs. If I'm feeling fancy I'll do an omelet or crustless quiche. If Vahe is around, he sometimes cooks grechka (toasted buckwheat) or a creamy rice for the girls. Vahe has also converted me out of "dessert for breakfast," as he calls it. So, no pancakes, french toast, or waffles for us – although, sometimes I sneak in a syrup-slathered breakfast when we have guests over. So, I've been trying to think of new ways for us to get in our protein, fruits and veggies in in the morning.
I made these little quiches with a puff pastry crust, using the veggies I had leftover in the fridge. Really, anything goes. You could put in any variety of vegetables, meat and cheese – these are pretty hard to mess up. Kyah loved them – they were just her size. Hannah almost ate a whole one too! This is definitely a keeper, and will soon be taking its turn in the breakfast routine.
Mini Quiche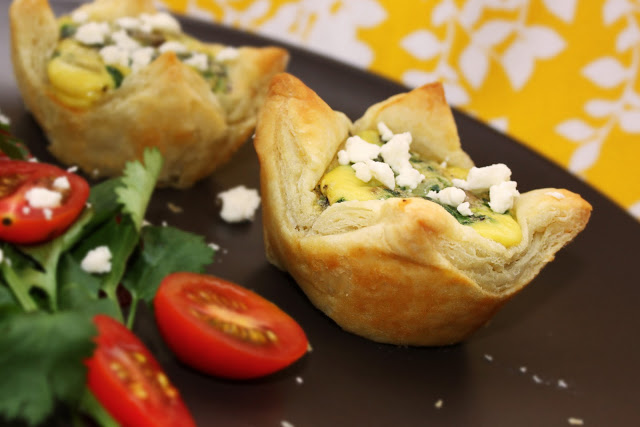 Ingredients: (makes 9)

1 1/3 sheets puff pastry (a frozen box usually comes in with 2)
5 eggs, beaten
1/4 cup milk
1/2-3/4 cup of veggies, meat and/or cheese (if you are using onions, peppers, asparagus… any veggie that takes a while longer to cook – I would saute them a bit first)
1/2 teaspoon salt
1/4 teaspoon pepper
1 teaspoon Italian seasoning or Herbs de Provence
veggies, cheese, and herbs to top


Directions:
1. Preheat oven to 350-degrees. Lightly grease a muffin pan.
2. Roll out a sheet of puff pastry, and cut it into 9 squares – they will be about 4×4-inches each.
3. Push each square into a muffin tin
4. Beat the eggs with milk and add in salt, pepper and seasoning. Stir in the veggies.
5. Pour the egg mixture into the puff pastry bowls.
6. Bake for 20-25 minutes on the rack just under the center rack. (The dough on top will brown much more quickly than the dough on bottom.)
*I put a little strip of parchment paper under the dough – to use as a little handle in taking the quiches out when they are done. They will pop out pretty well on their own, but this will make it even easier!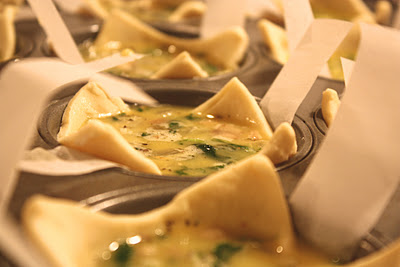 This is what I put in mine:
Frozen spinach – probably just a few Tablespoons – a little goes a long way
Mushrooms, green bell pepper & onion – all diced and lightly sauteed with a few cloves of garlic
Zucchini, shredded – put in raw
Cilantro, chopped
Italian seasoning
Then – I topped mine with feta, cilantro, and grape tomatoes. Yum!