This has recently become one of our favorite ways to make taco salad. The chicken in this recipe is soooo good. You could use in in fajitas, enchiladas, tacos… basically any Mexican dish. And, to sweeten the deal; it's wonderful made either quick on the stove-top, or all-day long in the crock pot. Pair it up with a little corn salsa and top it with lime-cilantro dressing over a wedge of crunchy iceburg. Perfect!! Vahe told me that this is his #2 favorite meal I make. It's so simple and easy, and a great make-ahead dinner.
Taco Wedge Salad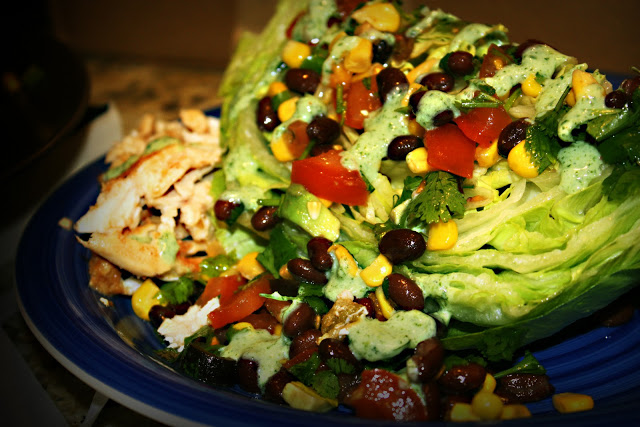 Ingredients:
Mexican Pulled Chicken
Black Bean and Corn Salsa
Cilantro Lime Dressing
Iceburg lettuce, cut in wedges
Optional: top with shredded cheese, tortilla chips or cheese-flavored Doritos, and a fresh squirt of lime
Mexican Pulled Chicken
Ingredients:
3-4 chicken breasts
2 Tablespoons olive oil
1 onion, diced
2 teaspoons cumin
2 cloves garlic
1/4 teaspoon chili powder
salt & pepper to taste
2/3 cup salsa (any variety)
1 cup chicken or veggie broth or stock
Directions:
1. In a large skillet, heat olive oil over medium-high heat. Add in onion, cumin, garlic, chili powder and salt and pepper – and saute until the onions are tender.
2. Add in salsa, broth and chicken and let simmer on low for 20-30 minutes, or until done. OR – pour everything into a crock pot and cook on low 3-6 hour (I sometimes just throw in frozen chicken breasts – and it takes about 6-8 hours on low to cook completely.)
3. Shred chicken and return to sauce.
*Crock pot tip: I used to think that when my meat turned out tough in the crock pot, that I was overcooking it. But, the very opposite is true! The meat will cook completely, then as it continues to heat – the connective tissue in the meat will begin to break down, making your meat tender and very easy to shred. It should not take more than the weight of the fork to pull it apart. Be careful, you can overcook in a crock pot – but chances are, if your meat is still tough – it just needs a little more time. (This is true with pork and beef too!)

Black Bean and Corn Salsa
Ingredients:
1 can black beans, rinsed and drained
1 12 oz bag frozen sweet corn, unthawed (you could also substitute with canned or fresh cooked corn)
3-4 tomatoes, diced (about 1 heaping cup worth)
1 avocado, diced
1 bunch cilantro, chopped
1/4 cup chopped green onion
1 small can sliced olives
1/2 packet of Italian salad dressing mix
1 lime, juiced (about 2-3 Tablespoons fresh lime juice)
drizzle of olive oil
salt and pepper to taste
Directions:
1. Mix all of the ingredients together.
2. Cover, and chill for at least 2 hours before serving.


Cilantro-Lime Dressing
Ingredients:
1 bunch cilantro
2 cloves garlic
1/4 teaspoon chili powder
2 Tablespoons or 1/2 packet Ranch dressing mix
2/3 cup of sour cream, plain yogurt and/or mayo (I usually use 1/3 cup sour cream, 1/3 cup yogurt)
1/3 cup milk
1 lime, juiced (about 2-3 Tablespoons fresh lime juice)
Directions:
1. Combine ingredients in a blender or food processor.
2. Chill in fridge at least one hour to thicken. (This dressing will freeze perfect in ice cube trays for later, too.)