This is my new favorite thing. I found the recipe for the Mango Quinoa Salad at Our Best Bites. It looked so yummy, I just had to try it – and I am so glad I did! I made it with a Garlic Lime Chicken recipe that I found on allrecipes.com. They made the perfect combo, and a complete, healthy and fresh meal! I have never made anything with quinoa before – honestly, in this recipe, it seems as if the quinoa just absorbs the flavors around it, and adds a splash of color and nutrition. The salad alone would be great for a light meal or even an appetizer.
I made the salad recipe almost to a 'T', just omitting the green onions – since I'm not really in love with them, and probably quadrupling the cilantro – since I AM in love with that. 🙂 I made the garlic lime chicken just a bit different – since our family isn't huge on spicy – and it tuned out so yummy. Here's what I came up with!
Mango Quinoa Salad with Garlic Lime Chicken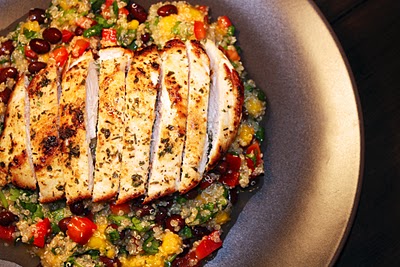 Mango Quinoa Salad
Ingredients:
2 cups cooked quinoa
1 14-oz can black beans, drained and rinsed
1 mango, peeled and diced
1 red bell pepper, diced
1 bunch cilantro, chopped
4 tablespoons red wine vinegar
2 tablespoons olive oil
2 tablespoons fresh lime juice
salt and pepper to taste
limes – for garnish
Directions:
1. In a large bowl, combine quinoa, beans, mango, pepper and cilantro.
2. Wisk together red wine vinegar, olive oil, and lime juice in a small bowl and pour over salad.
3. Toss to combine, and season to taste.
4. Chill before serving.
Garlic Lime Chicken
Ingredients:
3/4 teaspoon salt
1/4 teaspoon pepper
1/8 teaspoon cayenne pepper
1/8 teaspoon paprika
1/4 teaspoon garlic powder
1/4 teaspoon onion powder
1/2 teaspoon dried thyme
1/2 teaspoon dried parsley
2 boneless, skinless chicken breasts, cut in half
2 Tablespoons olive oil
4 cloves garlic, whole & slightly squished (<- is squished a proper baking term?)
4 tablespoons fresh lime juice
Directions:
1. Mix together the salt, pepper, cayenne, paprika, garlic & onion powder, thyme and parsley in a small bowl. Sprinkle liberally on both sides of the chicken.
2. Heat olive oil in a large skillet over medium heat. Saute chicken until browned on both sides.
3. Pour lime juice in skillet, and add squished garlic to the juice.
4. Continue to cook the chicken as the sauce reduces, occasionally flipping to coat with sauce, until chicken is done.
5. Serve over bed of Mango Quinoa Salad with a fresh squeeze of lime.