These are one of my new favorite appetizers. So simple, and so good!


Eggplant Caprese Rolls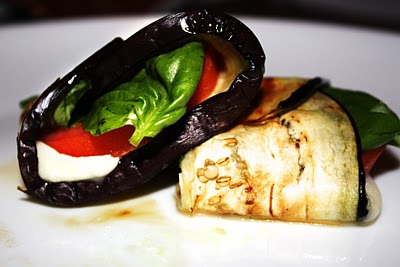 Ingredients:
eggplant, sliced into 1/8-1/4 inch strips
tomatoes, cut into thick slices
fresh basil leaves
fresh mozzarella, cut into thick slices
balsamic vinegar
salt and pepper, to taste
Directions:
1. Heat griddle or frying pan to medium-high heat. Spray, or lightly drizzle with olive oil. Cook one side of the eggplant slice until it begins to soften and brown.
2. Flip the eggplant, and place a thick slice of fresh mozzarella in the middle. Continue to cook until second side is done and brown and cheese begins to soften.
3. Remove from heat, and top cheese with a thick tomato slice, a drizzle of balsamic vinegar and a few basil leaves.
4. Wrap the eggplant around the toppings, and salt and pepper to taste.