This dish looks mostly unimpressive, but it is a new staple in my "Indian Night" menu. It is so good, so filling, and could easily be made as a main dish, or to compliment another. The blend of spices and texture is perfect, Kyah even loves it! This recipe makes quite a bit, probably enough to serve 8 as a main dish. But, the leftovers reheat really well so I always make the entire thing! This is my version of a recipe I found at my favorite online recipe site, allrecipes.com. Great served with naan or rice.
Lentil Curry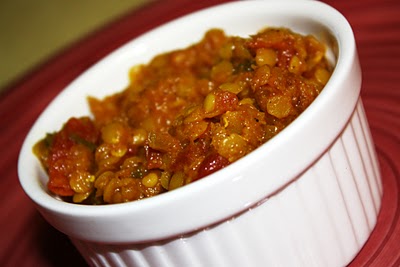 Ingredients:
3 cups red lentils
1 large yellow onion, finely diced
4 cloves garlic, minced
1 tablespoon ginger, minced
2 Tablespoons olive oil
2 cups chopped tomatoes, or 2 cans petite diced tomatoes
1/4 cup curry paste
2 Tablespoons curry powder
2 teaspoons ground turmeric
2 teaspoons ground cumin
1/2 teaspoon chili powder (1 teaspoon keeps it pretty mild, add a little more for more spice)
2 teaspoons salt
2 teaspoons sugar
1/4 cup cilantro, chopped


Directions:
1. Wash the lentils in cold water until the water runs very clear, put the lentils in a pot with water to cover and simmer covered until lentils tender, adding more water as necessary.
2. While the lentils are cooking, saute the onions, garlic and ginger in olive oil in a large skillet over medium-high heat.
3. While the onions are cooking, combine the curry paste, curry powder, turmeric, cumin, chili powder, salt and sugar in a small bowl. Then, add the curry mixture to the onions and cook over a medium-high heat stirring constantly for 1 to 2 minutes.
4. Stir in the tomatoes and reduce heat to medium-low, allowing the curry base to simmer until the lentils are ready.
5. When the lentils are tender, drain out most of the water and mix in the curry base. Stir in cilantro.