We were at a friend's house a few weeks ago, and another one of their guests were talking about these. They sounded so good – I just had to try them! The first time I made them I followed a recipe that I found online. They were good, but a little too strong for my taste. So, I made them again last night but added in a little cream cheese and mozzarella to tone down the feta a bit. I thought they were so much better! They still had great flavor, but the feta didn't overpower the whole thing like it had before. I also made them a lot smaller then before, so they were easier (and cleaner) to eat, with a little more crunch! Yum!
Spanakopita Bites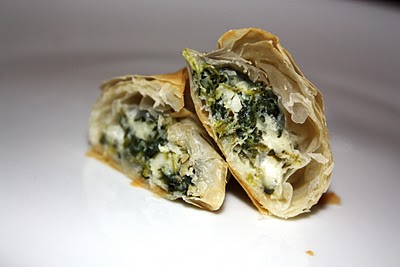 Ingredients:
1/2 cup butter
15 sheets phyllo dough
filling:
1 9-ounce package frozen chopped spinach, thawed and drained
1 egg
2 teaspoons Italian seasoning (or a little dried oregano, basil, parsley)
1/2 cup feta, crumbled
1/4 cup shredded mozzarella
1 ounce cream cheese
salt and pepper
Directions:
1. Preheat oven to 350-degrees.

2. Mix all of the filling ingredients together in a medium bowl.
3. Lay out one sheet of phyllo dough, and brush or spray with butter. (I keep just a normal spray bottle of butter in my fridge for phyllo dough – just melt it in the microwave and spray. It is SO much faster then brushing, and you use much less butter!) Lay out another sheet directly on top, spray, then repeat one more time – so that you have three layers of phyllo dough on top of one another, with a layer of butter on top of each.
4. Cut the dough into 6 strips across the width of the dough.
5. Place a heaping tablespoon of filling on the bottom of each strip. Then fold up each strip into triangles like a paper football. It's kind of hard to explain… here's a picture that I found that should help.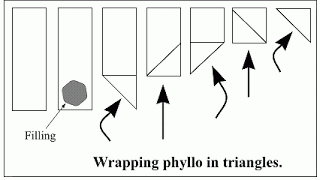 5. Place each triangle seam-side down on a baking sheet, and brush or spray the tops with butter. Repeat with remaining dough and filling.
6. Bake in preheated oven for 12-15 minutes, or until golden brown.