I tried these cupcakes for Kyah's birthday, and they turned out great! Naturally, being the copy-cat that I am, I got the idea from the Cocoa Bean Cupcake Cafe. Vahe and I first fell in love with their frappes in Rexburg, and we were so excited to see their new store open in Provo last year! Their drinks are SOO good, they use a roasted cocoa bean that has such a unique and earthy flavor. Their cupcakes are great too – and very cute – but really, not anything that you can't make on your own. So, here's my take on their raspberry chocolate cheesecake cupcake.
Chocolate and Raspberry Cheesecake Cupcakes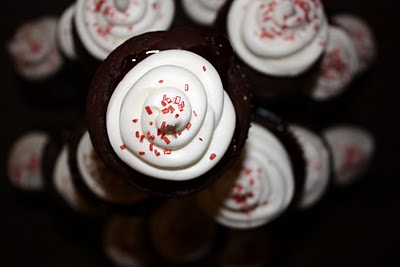 Ingredients:
8 ounces cream cheese, at room temperature
1 egg
1/2 cup sugar
1/2 teaspoon vanilla
1 tablespoon raspberry jam (with seeds!)
2 drops red food coloring (optional)
1 devil's food cake mix, and ingredients listed on package
1 cup chocolate frosting (use your favorite recipe, or store bought!)
1 cup raspberry jam
3 cups cream cheese frosting (use your favorite recipe, or store bought!)
Directions:
1. In a small bowl, wisk together cream cheese, egg, sugar, vanilla, 1 tablespoon raspberry jam and food coloring. Allow batter to chill in fridge, covered for about 1 hour.
2. Preheat oven to temperature listed on cake mix instructions. Prepare cake mix according to box directions.
3. Grease or place paper liners in 24 muffin cups.
4. Spoon one heaping-tablespoon of chocolate cake mix batter into each prepared cup. Top with one heaping-tablespoon of raspberry cheesecake filling. Then, top each with the remaining cake batter, so that each cup is about 2/3 full.
5. Bake in preheated oven according to cake mix package directions.
6. Allow cupcakes to cool completely.
To decorate:
1. Melt chocolate frosting in microwave so that it is pourable. Carefully spoon about 1-2 teaspoons of chocolate frosting over the center of each cooled cupcake, allowing it to run to the edges. Allow to cool and harden about 15-30 minutes.
3. Heat one cup of raspberry jam in microwave so that is it pourable. Carefully spoon about 2-3 teaspoons of jam over the chocolate frosting.
4. Top with cream cheese frosting, and chill cupcakes until ready to eat!