Step aside, Great Harvest! Seriously, this is way better. This is probably my all-time favorite quick bread recipe. I don't know what it is… but if you can make yourself wait at least 24-hours to cut into it, something incredible happens to this bread. The bread is OK on day one, but after a good night's rest under some foil or plastic wrap, this bread is to die for!! So, make it today – eat it tomorrow. It will all be worth it, I promise!!
I got this recipe from allrecipes.com, and tweaked it just a bit to make it my own!


Chocolate Chip Pumpkin Bread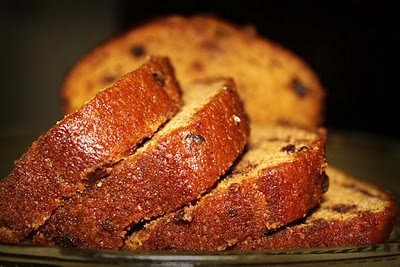 Ingredients:
1 15-ounce can pumpkin puree
4 eggs
1/2 cup vegetable oil
1/2 cup applesauce
2/3 cup water
3 cups sugar
1 tablespoon vanilla
3 1/2 cups flour
2 teaspoons baking soda
1 1/2 teaspoons salt
1 1/2 teaspoons ground cinnamon
1 teaspoon ground nutmeg
1/2 teaspoon ground cloves
1/4 teaspoon ground ginger
1 cup mini chocolate chips
Directions:
1. Preheat oven to 325-degrees. Lightly grease two 9×5-inch loaf pans.
2. In a large bowl, mix together pumpkin puree, eggs, oil, applesauce, water, sugar and vanilla until well blended. Add in dry ingredients and stir until just blended. Fold in chocolate chips.
3. Bake for 60-70 minutes in preheated oven.
4. After the bread has finished cooking, allow it to cool for 10 minutes before turning it out of the pan. Allow the bread to cool for about an hour or two, then seal it in a plastic bag, or wrap foil or plastic wrap around it, and hide it from yourself until tomorrow! Best 24-hours after cooking, or.. at least overnight!
*If you are doubling this recipe, make sure you use a GIANT bowl! I tried doubling this recipe once in my 4 1/2 – quart Kitchen Aid, and I ended up having to separate it into two bowls because it wouldn't all fit!