This recipe is my version of my mom's version of her mom's recipe. It is great over pasta, used in lasagna, or for a healthier (& gluten-free, Michelle!) version – I love it over spaghetti squash.
Here's an easy way to prepare spaghetti squash: cut your squash in half, then place it flat-side down on a baking sheet lined with greased aluminum foil. Bake it at 350 for about 45 minutes, or until it is tender. Cool, then shred the squash from rind with a fork. Season with salt and pepper (and maybe a little butter :).
Really, if you have never tried spaghetti squash – you have to! It is a great alternative to pasta because when topped with this spaghetti sauce (or any other sauce, really), has such a similar taste, appearance and texture as spaghetti noodles! I bet you could even trick the kids into eating it…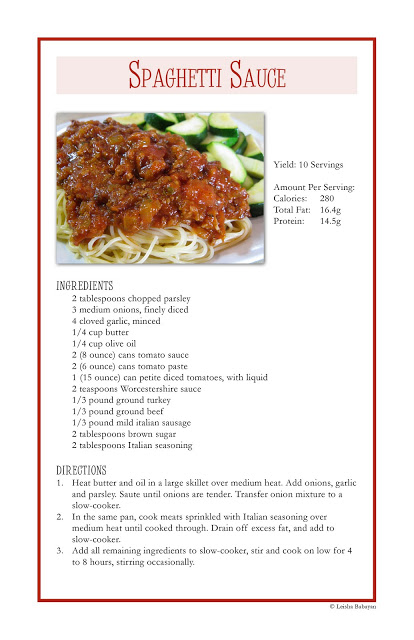 P.S. This sauce will freeze great! This recipe makes way too much for Vahe and I to eat before it goes bad, so I divided it into three – two bags in the freezer, the rest for dinner and leftovers!