Last night, I was feeling sorry for myself – and with no chocolate in sight to initiate my pity party, I decided to 1/8 my brownie recipe and cook it in a mug. I have tried other mug brownie and mug cake recipes before – and haven't really loved any of them. But this – was delicious. Today, I looked up the calorie count – 752. Yikes. No pity party should
ever
merit that many calories, let alone from a single mug! I'm gross.
So today – I set out to try a "skinny" version of my recipe. I tried two versions, replacing the butter/oil with yogurt in one, and applesauce in another, and switching out the sugar for organic agave nectar in one, and honey in the other. Also, substituting half of the flour for whole wheat in both.
187 calories, people.
That's 1/4 the calories of yesterday's attempt at a Biggest Loser contestant. 187 calories is less than eating two of those little dinky "100-calorie packs." Promise, this will satisfy your sweet tooth. Those little bags, will not.
Honestly, bite-for-bite, I would probably choose my original full-fat, full-sugar, full-calorie recipe in a blind taste test. But, this skinny version is seriously good. Really good. And after eating an entire serving – without the guilt, the greasy after-taste, and not to mention the extra 565 calories – makes this version completely worth it.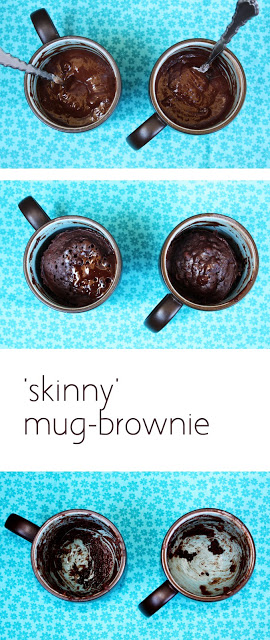 I tried two different versions of this same recipe. On the left, I used agave nectar and yogurt, on the right is honey and applesauce.
Honestly, they taste almost identical. If I had to choose a favorite, I would probably choose the agave nectar mug. You could sub applesauce for the yogurt and vice versa, and I don't think you would even notice a difference. The agave and honey just sweeten a little bit differently.
The mug on the left was cooked perfectly, the mug on the right I overcooked just a bit. My husband likes almost anything baked over-done, but I always like mine soft and gooey!
Skinny Mug Brownies
Ingredients:
1 Tablespoon applesauce or yogurt – any variety (I used a fat free light vanilla yogurt – you could also use a plain Greek, or even a fruit-flavored yogurt)
2 Tablespoons agave nectar or honey (I used an organic blue agave nectar)
1 Tablespoon cocoa powder
2 Tablespoons flour (I used 1 T white, 1 T whole-wheat)
1 Tablespoon egg white (If doubling, use one whole egg white)
1 Tablespoon chocolate chips
1 little splash of vanilla (about 1/8 teaspoon)
1 generous pinch salt
Directions:
1. Mix all ingredients together in a mug with a fork.
2. Microwave for about 30 seconds. Do NOT over bake – or it will turn out like a dry chocolate sponge. The brownie will be done when bubbles form at the top – but still looks wet.
3. The brownie will be HOT. Let it stand for a few minutes – and enjoy your guilt-free treat!