Cinnabon? Pphft.
The World's Best Cinnamon Roll (and Cream Cheese Frosting)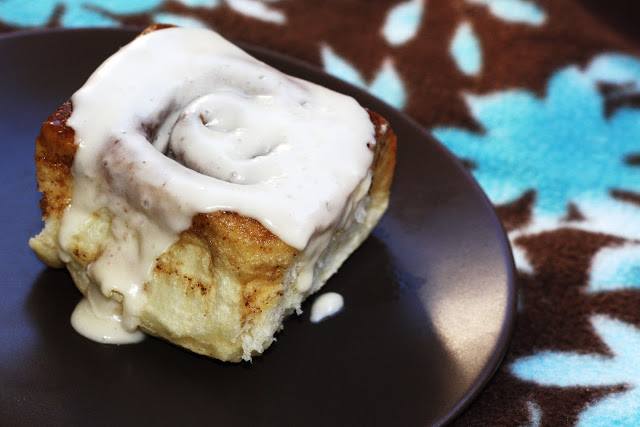 Ingredients:
Dough:

1 1/4 cups warm milk
4 Tablespoons butter, softened or cut in thin slices
2 Tablespoons sugar
1 egg
1/2 teaspoon salt
4 – 4 1/2 cups flour
1 Tablespoon dough enhancer (optional – but HIGHLY recommended!)
2 teaspoons yeast
Filling:
1/4 cup butter, melted and cooled
1 cup brown sugar
1 tablespoon cinnamon
Directions:
1. Layer ingredients in the order shown in bread maker on dough setting. Or, do it the old-fashion way by hand – Mix milk, butter, sugar, and egg together. Sprinkle yeast on top. Allow it to proof. When yeast is foamy, add in 3 1/2 cups flour, dough enhancer and salt. Knead, using as much flour as needed to bring the dough together, until smooth and elastic – about 15 minutes by hand, 8 minutes in a mixer.
2. Cover and let dough rise about 1 hour, or until doubled.
3. Punch down dough. On a well greased (if dough is on the dry side) or floured (if dough is sticky) counter, roll out into a 12 x 24-inch rectangle.
4. Spread butter evenly over dough.
5. Mix together brown sugar and cinnamon – sprinkle evenly over butter, except for the last few inches on the long side – so that the dough will seal to itself after rolled.
6. Tightly roll the dough, ending with the butter side.
7. Cut the roll into 1 1/2-inch sections and arrange in a pan. I like to put 12 in a 9×13-in pan, and then my ugly ends on a cookie sheet. (You could also freeze the rolls to use later at this point.)
8. Cover and let rise 1 hour, or until almost doubled.
9. Preheat oven to 375. Bake for 20-25 minutes or until dough begins to turn golden.
10. Immediately after taking rolls out of oven, flip upside down to remove from pan. Flipping the rolls will allow all of the juices that sank to the bottom during cooking to coat the roll while it cools. Or until you eat them all. Whichever comes first. 🙂
11. Serve warm with cream cheese frosting.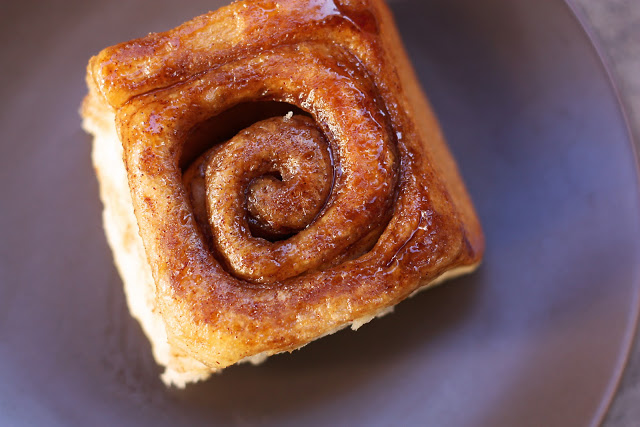 Cream Cheese Frosting
Ingredients:
1/2 package cream cheese – at room temperature
4 Tablespoons butter – at room temperature
1 1/2 cups powdered sugar
1 1/2 teaspoon vanilla extract
2-4 teaspoons milk
Directions:
1. Cream together cream cheese and butter. Stir in powdered sugar.
2. Add in vanilla extract and 2 teaspoons milk. Beat until light and fluffy. Add more milk to thin, if needed.