This cake is one of my all-time favorites – a rich chocolate cake and warm fudge sauce all-in-one. Perfect over vanilla bean ice cream. The cake is mixed in the pan that it's made in – so less clean up, too! Make sure to read the directions carefully – this is made a little differently than what you might be used to!

Hot Fudge Sundae Cake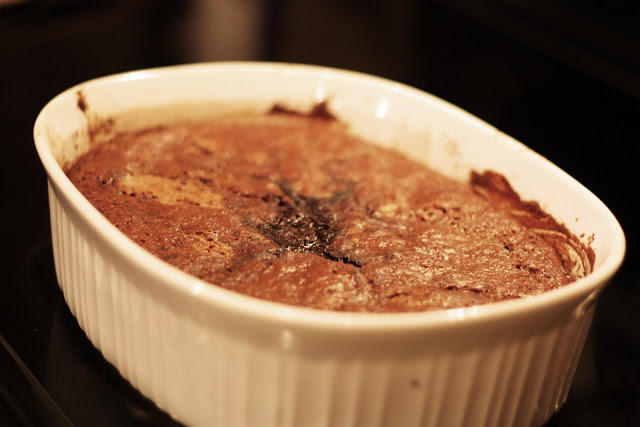 Ingredients:
1 cup flour
3/4 cup sugar
2 Tablespoons unsweetened cocoa powder
2 teaspoons baking powder
1/4 teaspoon salt
1/2 cup milk
2 Tablespoons vegetable oil
1 teaspoon vanilla extract
1 cup brown sugar, packed
1/4 cup unsweetened cocoa powder
1 3/4 cups hot water


Directions:
1. Preheat oven to 375-degrees.
2. In an ungreased 9×9-inch pan or casserole dish, mix together flour, sugar, 2 Tablespoons cocoa, baking powder, salt, milk, oil and vanilla. Spread evenly in pan.
3. Sprinkle brown sugar and cocoa evenly over batter, then pour hot water over entire mixture.
4. Bake for 30-40 minutes, or until the cake on top is no longer shiny. The cake will be essentially floating over the fudge sauce, so it will wiggle in the pan a little bit – don't over-bake it thinking that it is underdone!