This is my favorite recipe for day-to-day sandwich bread. Usually, I'll just stick everything in the bread maker on the dough setting – but there's a little bit of therapy for me in kneading dough, so I prefer to do it by hand when I have the time. Either way you make it, this loaf is perfect for sandwiches or snacking!

Honey Wheat Sandwich Bread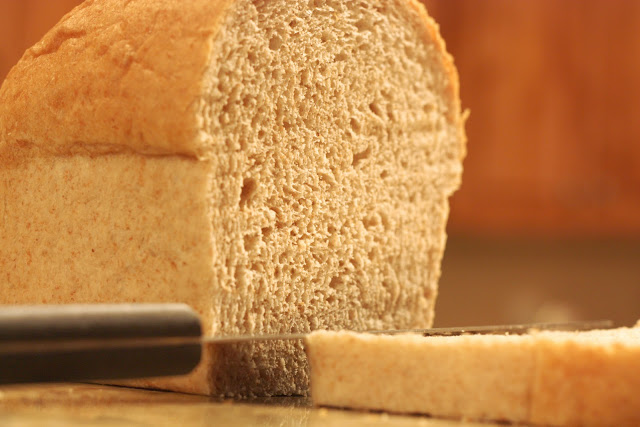 Ingredients:
1 1/2 cups warm water
2 Tablespoons honey
3 Tablespoons dough enhancer (optional, but highly recommended!)
2 cups whole-wheat flour
2 cups all-purpose flour
2 teaspoons yeast
1 teaspoon salt
Directions:
1. Mix honey and warm water, sprinkle yeast on top. After the yeast has proofed, and the mixture becomes foamy – add in the rest of the ingredients (using only as much flour as needed to make a smooth dough) and knead until the dough is smooth and elastic (usually about 10-minutes of hand-kneading for me). (Or throw everything in the bread maker.)
2. Cover with damp towel or lightly grease and cover with plastic wrap, and let rise one hour or until doubled.
3. Punch down dough and shape into loaf. Place in loaf pan and cover. Let rise 30-45 minutes, or until doubled.
4. Bake at 350-degrees for 30-35 minutes.