I like making food look pretty. So, I thought I would enjoy making cakes look pretty, too. After approximately 10 hours more work than I expected, and a whole lot more stress than I ever anticipated – I made my first wedding cake. I wouldn't exactly say that I enjoyed it. I've made a few smaller cakes – that, I enjoyed. This, not as much.
The bottom two layers were styrofoam and I used a very simple design – in my mind, it should have been a breeze. Granted, this was my first big cake – I didn't really know what to expect. The bottom layer was 16x16x5. That's over 4 square feet of fondant that was lifted over an over-priced block of styrofoam. Argh.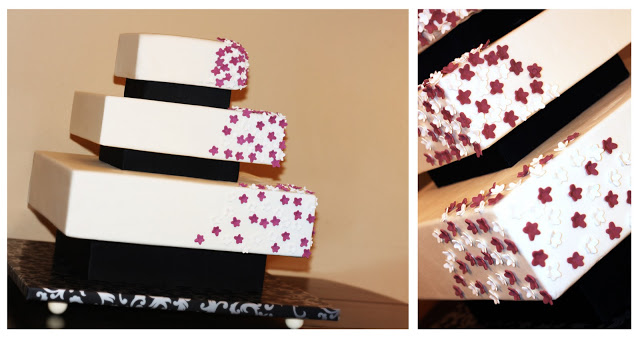 In the end, the cake turned out nice. I stressed learned a lot from trial and error – and will definitely do many things different the next time around. It was fun, at times – I think the amount of time it took stressed me out the most. My day-long diet of marshmallow fondant and Diet Coke probably didn't contribute much, either.
I'm sure after a few runs, and as I get better and quicker – I will have a lot of fun making cakes. And, I think the term enjoy will easily slip back into a sentence along with fondant and cake if the word profit were to exist along side.
For now, I think I'll take a little break. I'll probably dream the next few nights about smoothing fondant. Or have nightmares about it. And then I'll probably forget that it was stressful and get excited to do it all again. And when I do, I'll probably enjoy it – then. 🙂