A few weeks ago, I had the Thai Chicken Pizza at California Pizza Kitchen. It really hit the spot, and then I remembered this post that my friend Lindsay posted on her blog a while ago (I seriously make almost everything she posts – it is all amazing!). I tweaked her sauce recipe just a little bit, added chicken to mine (she's a vegetarian), and put it on my own pizza crust. This is definitely one of my favorite pizzas, so much more fresh and healthy than the traditional pepperoni!
Thai Chicken Pizza with Peanut Sauce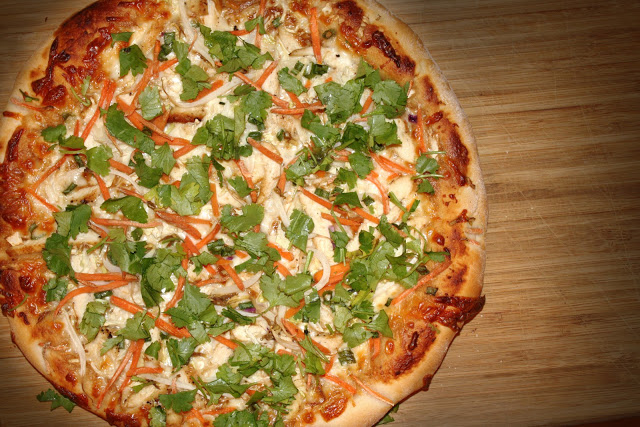 Ingredients:
Peanut Sauce
1/2 cup rice vinegar
1/4 cup peanut butter
1 Tablespoon fresh ginger, minced
1 teaspoon Thai chili sauce
2 Tablespoons soy sauce
2 Tablespoons honey
2 Tablespoons hoisin sauce
1 lime, juiced
2 teaspoons seasame oil
1/2 cup canola, vegetable, or olive oil
Pizza Crust
The link above will take you to my pizza crust recipe – or you can use your own favorite, or even a pre-made dough.
Pizza Toppings
mozzarella cheese, shredded
Grilled chicken breast, thinly sliced (If you want to be really ambitious – you could marinate your chicken in the peanut sauce before grilling)
shredded cabbage (I cheat and by a bagged coleslaw)
matchstick carrots
bean sprouts
sesame seeds
cilantro

Directions:
1. Make sauce by combining all ingredients in a blender or food processor.
2. Spread a thin layer of sauce on the prepared pizza dough, then top with mozzarella, chicken, cabbage, carrots, bean sprouts and sesame seeds.
3. Bake according to your recipe.
4. Top with fresh cilantro.