This is one of my favorite pumpkin recipes, and a Thanksgiving staple! The recipe comes from a combination of pumpkin cheesecakes recipes I have tried over the years – the best of each put into one amazing cheesecake!
Pumpkin Cheesecake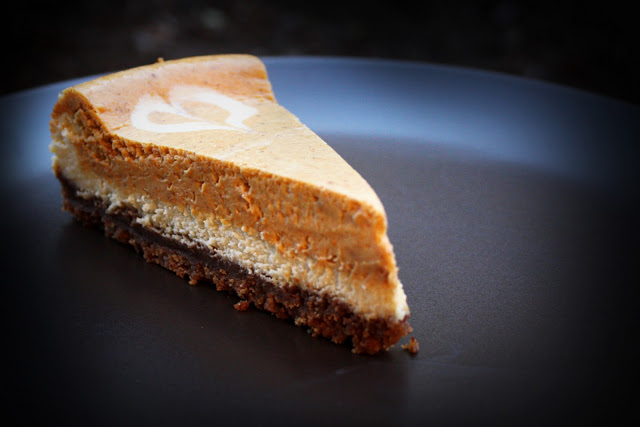 Ingredients:
Crust
3/4 cup graham cracker crumbs
3/4 cup ginger snap crumbs
1/2 cup pecans
1/3 cup butter, melted
Cheesecake
3 8-ounce packages cream cheese, softened
1 cup sugar
2 teaspoons vanilla
3 eggs
3/4 cup pumpkin puree
1 teaspoon cinnamon
1/4 teaspoon cloves
1/4 teaspoon nutmeg
Directions:
1. Preheat oven to 325-degrees. Prepare crust by pulsing graham crackers, ginger snaps, and pecans in a food processor or blender until fine, even crumbs form. Stir in melted butter.
2. Press crust into the bottom of a 10-inch springfoam pan.
3. Make cheesecake by beating together cream cheese, sugar and vanilla. Add eggs one at a time, stir to an even consistency. (This can be hand mixed, made in a KitchenAid, food processor, or blender.)
4. Remove just under 2 cups of batter and spread in bottom of pan. (Reserve 1-2 Tablespoons of batter for designs on top, if desired.)
5. Add pumpkin puree and spices to remaining batter and carefully spoon over first layer.
6. Bake in preheated oven for 45 to 55 minutes. When all but about 1/3 of the cheesecake's center is set, turn the oven off – and prop open the door just a bit. Let the cheesecake slowly cool for about one more hour before removing it from the oven.
7. Allow the cheesecake to cool completely at room temperature, then chill at least 12 hours before serving.