My in-laws have been here for a few weeks now, and to celebrate Vahe's mom's birthday – I decided to try to take on something that was a little more traditional for her – this Napoleon cake. It took waaayyy longer than I expected to make – about 5 hours with the "help" of my girls. In fact, I didn't even bake 4 of the 15 layers the recipe calls for. But seriously, totally worth it – even 4 layers short.
Not really knowing what I was making, or how it should taste – I followed this recipe from group recipes almost to a 't', just omitting the alcohol – and baking the pastry at a slightly higher temperature.
The end result kind of tasted like layered crepes with a custard filling. And wonderful.
Next time I make this, I am going to try to sub out at least half of the butter it calls for (the recipe uses 3 1/2 sticks!). Also, I will make sure that the hubby is home – I think I'll be able to assemble the whole cake in under 3 hours sans little helpers. I'll make sure to add on an edit if the lighter version turns out well.
Napoleon Torte (Russian Napoleon Layered Cake)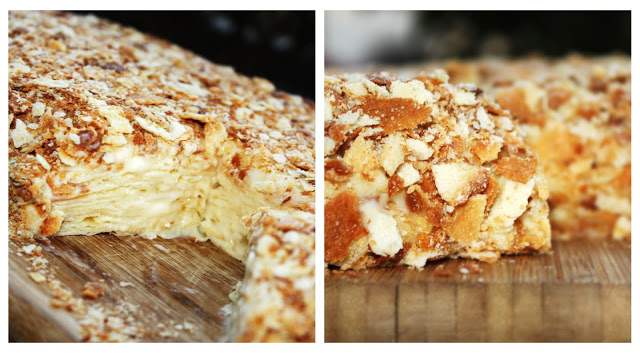 Ingredients:
Pastry
2 eggs, at room temperature
1 cup sour cream, at room temperature
1 cup (2 sticks) butter, at room temperature
1/4 teaspoon of salt
shy 1/2 teaspoon baking soda
1 Tablespoon white vinegar
3-4 cups flour
Cream
7 cups whole milk, divided
1 1/2 cups sugar
4 egg yolks
5 Tablespoons flour
pinch of salt
zest from 1 lemon (about 1 packed teaspoon)
1 teaspoon vanilla
pinch of nutmeg
3/4 cup (1 1/2 sticks) butter
Directions:
Preparing the Pastry
1. Prepare the pastry by blending together eggs, butter, sour cream and salt. Make sure these three ingredients are all at room temperature so that the butter will stay soft. (When I made this, I put my softened butter into cold sour cream and eggs – and the butter hardened up in little chunks. I eventually had to put the bottom of my mixing bowl in warm water for a while to soften everybody back up.)
2. In a small bowl, dissolve baking soda in vinegar. When the bubbles have stopped, stir into egg mixture.
3. Gently add in 3-4 cups of flour, until the dough becomes a little bit thicker than a cookie dough – and is no longer sticky. (I used 3 1/2 cups of flour.)
4. Divide the dough into 16 pieces, cover, and chill in fridge while preparing the cream.
Cream
1. Pour 6 cups of milk into a large heavy pot and gently bring it to a boil, stirring occasionally.
2. While the milk is warming – cream together egg yolks, sugar and salt. Blend until the mixture turns a lighter color. Add in flour, and mix well. Then, add in the remaining cup of milk and until all of the lumps are gone.
2. When the milk begins to boil, immediately reduce the heat to low. Very slowly, wisk in the egg mixture. Turn the heat back up to medium-high, and bring back to a boil. Simmer the cream for 3 minutes, stirring constantly.
3. Remove from heat, and stir in lemon zest, vanilla and nutmeg.
4. Let the cream cool for about 10 minutes, then add in butter. Let it melt from the heat of the cream, then stir to combine.
5. Cover the pot and let cool while you prepare layers of pastry.
Baking Pastry
1. Preheat oven to 450-degrees.
2. Roll out one piece of dough very thin, just bigger than the size of a piece of paper, on a very well floured surface. (I just kept a piece of paper near so that I could make sure it was about the right size.) Don't worry about making it a perfect shape, after you stack the cake – you will trim the edges so that they are even.
3. Place on an ungreased cookie sheet, and use a fork to poke holes all over the dough.
4. Bake for 2-4 minutes, until just barely brown on the edges.
5. Repeat with the remaining pieces of dough. (Cook 2 sheets a little bit longer until they turn a golden to dark brown all over. Let these pieces cool, then crumble and set aside to spread on top and around the cake at the end.)
Assembling the Cake
1. Begin by placing one sheet of the pastry on a large plate, baking dish or board.
2. Spread about 1/2-3/4 cup of the cream on top, covering the entire sheet. Repeat with the remaining sheets of pasty and cream, spreading cream on the very top.
3. Refrigerate the cake for 2 to 3 hours.
4. After the cake has soaked and softened, trim off the edges of the cake.
5. Carefully sprinkle and pat in the crumbled pastry all over the cake.