It's kind of embarrassing when people ask me for the recipe for this – because its so simple. This cake looks and tastes so much more complicated than it is. This usually what I bring when we get invited somewhere and are asked to bring dessert. It's easy to throw together, uses only a few ingredients – and keeps really well. You can make it days in advance (it actually should be made at least a day in advance), or even freeze it for months.
Eclair Cake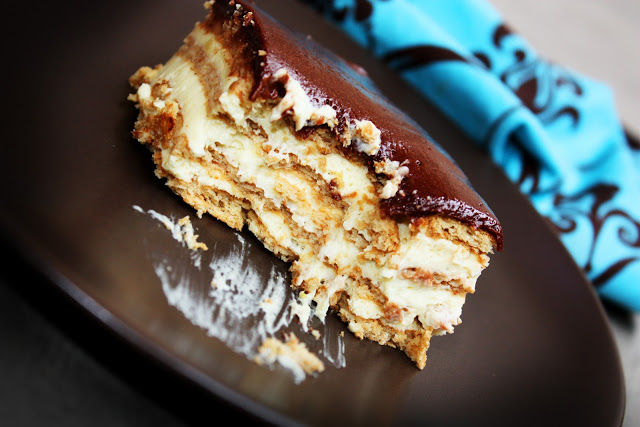 Ingredients:
2 (3-ounce) packages instant vanilla pudding mix
3 cups milk
12 ounces Cool Whip (I always use light)
1 1/2 boxes graham crackers (4-5 sleeves)
1 (16-ounce) jar of pre-made chocolate frosting
Directions:
1. In a large bowl, whisk together pudding and milk – then fold in Cool Whip.
2. In a 9×13 pan, arrange enough graham crackers in single layer to cover bottom of the pan. (Break them apart as needed)
3. Pour 1/3 of the pudding mixture (just under 2 cups) over the crackers, and spread evenly over graham cracker layer.
4. Repeat layers of crackers and pudding mix two more times, then top with graham crackers.
5. Remove lid and seal from frosting container and microwave at 15-30 second intervals, stirring after each, until the frosting is melted and can be poured. Pour the frosting over the last layer of graham crackers, and tilt the pan to cover.
6. Cover, and refrigerate at least a day before serving – giving the crackers time to absorb the moisture and soften. (I usually let it chill for a few hours before covering it to let the frosting set – so that my plastic wrap will come off cleaner when it's ready to serve.)
*This dessert can be ready in less time by dipping the graham crackers in milk before layering. I would still probably give it at least 8-hours to absorb.