This is one of my favorite soups. Borscht is a traditional Ukrainian soup made from beets and cabbage. Not only is it wonderful, but beautiful too!
Borscht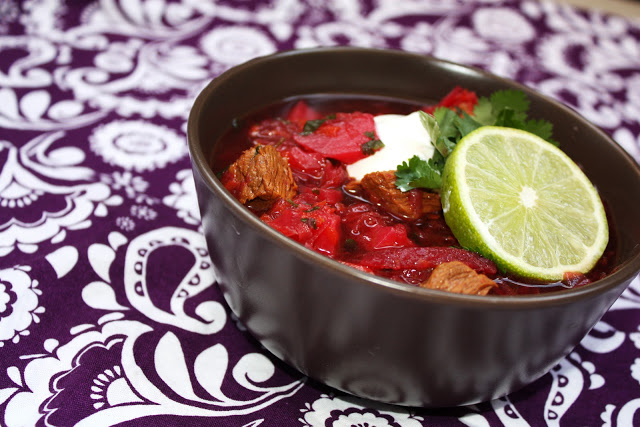 Ingredients:
2-pounds stew meat (or really any cut of beef cut in bite-size chunks)
2 quarts beef bouillon, stock, or broth (I am in love with the Better than Bouillon brand – I get it from Costco and always use it for any recipe that calls for stock or broth)
1/2 head of cabbage, shredded (I cheat and use a bag of coleslaw mix)
3-4 carrots, shredded (again, I usually cheat and get a bag of matchstick carrots)
3-4 beets, peeled and shredded (about 4-5 cups shredded)
1 large onion, diced
1 Tablespoon olive oil
3-4 potatoes, peeled and diced to bite-size
1 bunch cilantro, chopped
2 bay leaves
salt and pepper
garnish: lime, cilantro, sour cream
Directions:
1. Simmer stew meat in bouillon with bay leaf until tender. Depending on the size of your meat, this may take up to a few hours.
2. Meanwhile, saute onion in olive oil in a small saute pan over medium-high heat until the onion turn translucent.
3. Add shredded cabbage, carrots, beets and onion to the bouillon. Add in enough water to completely cover the vegetables, if necessary. Simmer until the vegetables are tender.
4. Add in diced potatoes, and simmer a few minutes longer until soft.
5. Remove from heat and stir in chopped cilantro. Serve with sour cream, cilantro, and a fresh squirt of lime juice.