This salad was inspired by a salad I got at a restaurant in Highland called Blue Lemon. It could almost be classified as a dessert, but since there is lettuce in it – we'll just call it a salad and feel healthy about it.
Pear and Gorgonzola Salad with Candied Walnuts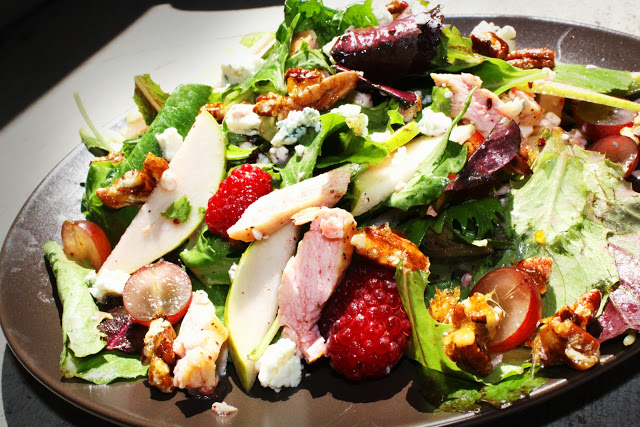 Ingredients:
baby spinach, arugula and/or baby greens
firm pear, sliced thin – any variety is fine, I like D'anjou
grape halves and/or rasperries
gorgonzola cheese
grilled chicken breast, sliced and/or turkey bacon, diced and cooked
Raspberry Vinaigrette – I love Ken's Steak House Lite Raspberry Walnut Vinaigrette Dressing
Candied Walnuts:
1/2 cup walnut halves (or try it with pecans)
1/4 cup sugar
Directions:
1. Heat walnuts and sugar in small sauce pan or skillet over medium heat. Stir constantly until the sugar melts and coats the walnuts – it will turn light brown and smooth. Immediately after all of the lumps of sugar have melted, remove from heat and spread the walnuts out onto foil to cool.
2. Toss together the rest of the ingredients, and top with candied walnuts.