This is, hands down, our favorite cheesecake. Honestly, I have intended to put the recipe up for so long, but it always disappears faster than I can snap a picture of it! It is so rich that even just a few bites will completely satisfy your sweet tooth. The original recipe I used was torn out from a magazine years ago – I wish I could remember where I got it from! Since then, I have changed it up here and there to make it my own. This is the perfect cheesecake for any chocoholic!


Burnt Almond Fudge Cheesecake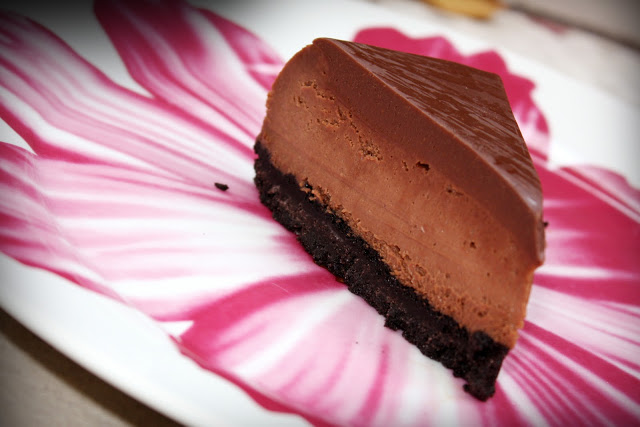 Ingredients:
Crust:
2 sleeves of a 15-ounce package of Oreos – or about 2 cups Oreo cookie crumbs
1/3 cup butter, melted
Cheesecake:
1-1/2 (4-oz) packages Baker's German Sweet Chocolate (you'll use the other 1/2 in the ganache)
2 eggs, room temperature
2/3 cup corn syrup
1/3 cup whipping cream
1 teaspoon vanilla
1/2 teaspoon almond extract
2 8-ounce packages cream cheese, softened
Ganache:
1/2 cup milk chocolate chips
1/2 package (or 2 ounces) Baker's German Sweet Chocolate
1/4 cup whipping cream
1/2 teaspoon vanilla
1/2 teaspoon almond extract
Directions:
1. Preheat oven to 300-degrees.
2. In a blender or food processor, pulse Oreos to fine crumbs. Add melted butter. Press crust on the bottom of a 9-inch springfoam pan (lightly grease sides of pan).
3. Completely melt 1-1/2 (4-oz) packages of Baker's German's Sweet Chocolate in the microwave, stirring at least every 30 seconds. Set aside to cool.
4. Blend together corn syrup, whipping cream, eggs, vanilla and almond extract in a food processor or blender until smooth. Add in cream cheese, 1/2-package at a time. Then, add in melted chocolate. Blend to uniform consistency.
5. Pour batter over crust and spread to level.
6. Bake for 50-60 minutes. When all but about 1/3 of the cheesecake's center is set, turn the oven off – and prop open the door just a bit. Let the cheesecake slowly cool for about one more hour before removing it from the oven. Allow the cheesecake to cool completely at room temperature before adding ganache.
7. Make the ganache by heating the milk chocolate chips, remaining 1/2 package of German's sweet chocolate, and whipping cream over very low heat in a saucepan – stirring constantly. When the ganache has a uniform consistency – remove from heat and add in vanilla and almond extract. Let cool for a few minutes – then pour over top of cheesecake.
8. Cover, and let the cheesecake chill in the fridge at least 12-hours before serving.
*This cheesecake, like most, will freeze and keep very well. But, let's be honest…