We probably make balsamic pasta at least once a week. It's an easy way to throw together leftovers for a complete, healthy meal. It's more of an idea than a recipe – basically I just take whatever vegetables I have in the fridge, saute them in a little butter – then simmer in balsamic vinegar. Toss with some pasta, and top with Parmesan. Easy enough!
Balsamic Pasta Toss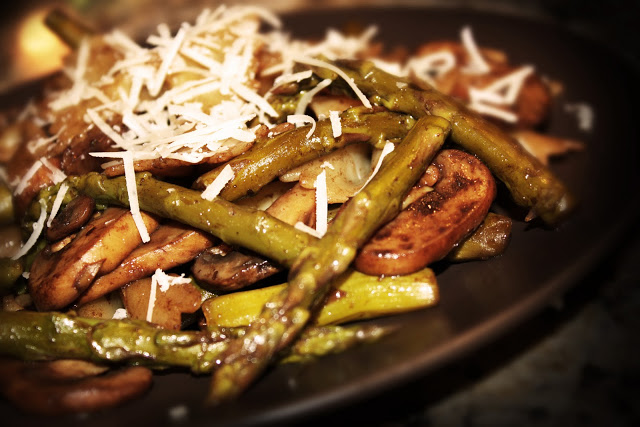 Ingredients:
Vegetables (If I plan ahead – my favorite combo of veggies to use is asparagus and mushrooms. We also love using zucchini, yellow squash, grape tomatoes, spinach and fresh basil. I am going to try it with some butternut squash, green beans and arugula later this week.)
Pasta – any kind: (I usually use bowties or penne, mostly because they are easier for the girls to eat)
Butter or Olive Oil (I usually use butter)
Balsamic Vinegar
Parmesan cheese – a must!
Directions:
1. Heat just enough butter or olive oil in to coat saute pan over medium-high heat. Saute vegetables until desired tenderness, adding in a few tablespoons of balsamic vinegar 1-2 minutes before the vegetables are done.
2. Meanwhile, cook pasta according to package directions.
3. Toss the vegetables and pasta together. Plate, and top with Parmesan.