One of my favorite things about the holidays is an excuse to bake and bake, and bake. For Thanksgiving dessert our line-up included the traditional pumpkin pie, pecan pie, chocolate cream pie, burnt almond fudge cheesecake, pumpkin cheese cake, chocolate fudge (made by Michelle!) and this apple galette.
This apple galette was supposed to be a coconut cream pie. But, I got tired – and this just seemed so much easier to throw together with my leftover pie crust – and I'm so glad I did. It was light and just sweet enough to hit the spot. And I love that it is so simple, rustic and yummy. The long directions may make it look complicated – but it is very very easy to make! We ate it at a day-old, and it was sooo good – I can't wait to try it again warm out of the oven!
Apple Galette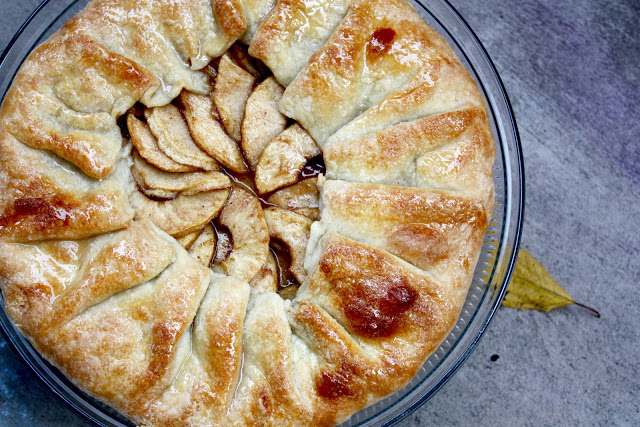 Ingredients:
My Favorite Pie Crust (* *This will make twice as much pie crust as you need for one apple galette. You can freeze half for later, use it for another pie, or double the ingredients for everything else to make 2!)
4 cups flour
1 cup cold butter-flavored shortening (I put mine in the freezer about an hour before)
3/4 cup cold butter
1/4 cup sugar
2 teaspoons salt
1 egg, beaten
about 1/2 cup ice-cold water
Filling
4-5 apples, peeled and sliced (save the peels and cores for the glaze!)
I used 2 Fuji, 2 Golden Delicious
1 teaspoon cinnamon
1/3 cup brown sugar
1 Tablespoons milk
1 Tablespoon sugar
Glaze
1/2 cup water
1/2 cup sugar
peels and cores from apples
Directions:
1. Prepare pie crust by blending together flour, shortening, butter, sugar and salt with a pastry cutter until crumbly. Mix together ice water and egg, and stir into mixture until the dough comes together, adding more ice water as needed. Handle as little as possible, but mix together to a uniform consistency. Divide dough in two, wrap in plastic and chill in fridge for at least one hour.
2. While dough is chilling, prepare apples by peeling and slicing. Then, toss with 1 teaspoon of cinnamon, and 1/3 cup brown sugar.
3. Roll out one half of dough into a 20-inch circle. Don't worry about it being perfect – this dessert is so beautiful because it is imperfect! Transfer dough onto a lightly greased pizza pan or cookie sheet (or line with parchment).
4. Fill center of dough with apples, then fold the dough into the center, making pleats as necessary.
5. Brush the top of the dough with milk, then sprinkle with sugar.
6. Bake at 350 for 40 – 50 minutes, or until crust is golden brown.
7. While crust is baking, prepare the icing. Place all of the apple peels and cores in a small saucepan and add 1/2 cup water and 1/2 cup sugar. Bring to simmer over medium-low heat, and continue to simmer for about 30 minutes. Strain the glaze, discarding the peels and cores.
8. Allow the galette and sauce to both cool for about 10-20 minutes, then brush the glaze over the entire galette.