Two of Kyah's favorite things are noodles and cheese. But, I don't feel too great about making her the boxed mac & cheese- I feel like very little of anything real comes inside that blue box. So, today I just made a little cheese sauce with the cheese I had in the fridge, and mixed it in with some noodles – she loved it!
Stove-top Mac & Cheese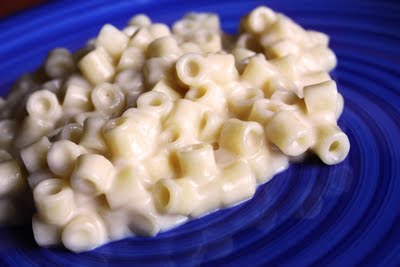 Ingredients:
3 cups cooked pasta
2 Tablespoons butter
2 Tablespoons flour
1 1/4 cups milk
2 cups grated cheese (I used half medium cheddar, half monterey jack – next time I will try all sharp cheddar)
salt and pepper to taste
Directions:
1. Cook pasta according to package directions. Drain, and set aside.
2. Melt butter in pan over medium heat, then wisk in flour. Heat, stirring constantly until sauce bubbles then very slowly wisk in milk. Heat until sauce is thick enough to coat a spoon.
3. Stir in cheese, and continue to stir until it has completely melted, then add in noodles.
Great served as-is. Or, fill a small ramekin with the mac & cheese, sprinkle some grated cheese on top, then place under the broiler until bubbly. Yum!