We've all been down with a little cold and combined with the SNOW that is still falling, I've made quite a few soups this week. Minestrone is probably one of my favorite soups, and really can be made with just about any vegetables, a can of beans, and some noodles. Here's a base recipe that I scratched up.
Minestrone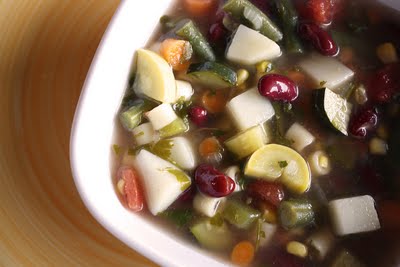 Ingredients:
2 Tablespoons olive oil
1 large onion, diced
3 cloves garlic, minced
2 quarts chicken or vegetable broth
1 tablespoon Italian seasoning
1 cup green beans, cut into 1-inch pieces
2 potatoes, diced
1 zucchini, quartered and sliced
1 yellow squash, quartered and sliced
1/3 cup carrots, sliced
1 cup corn, frozen or canned
1/4 cup ditalini pasta (or any other kind of pasta), cooked to al dente
1 can red kidney beans, rinsed and drained
1 can petite diced tomatoes
salt and pepper to taste
Directions:
1. In a large pot, heat olive oil over medium-high heat. Add in onion and garlic, and saute until tender.
2. Pour in the broth and and Italian seasoning and bring it to a simmer. Add in green beans, and simmer until soft, but still slightly crunchy.
2. Add in potatoes, and continue to boil until softened, but not quite done. Then, add in zucchini, yellow squash, and carrots and continue to boil until all of the vegetables are soft.
3. Stir in corn, canned tomatoes (with the liquid), beans and cooked pasta and salt and pepper to taste. Bring back to a simmer to heat the soup through.