I love the flavors and variety in this pasta. The sauce is made from the feta melting down around the hot noodles, the artichoke marinade and lemon juice – yum!
Greek Pasta Toss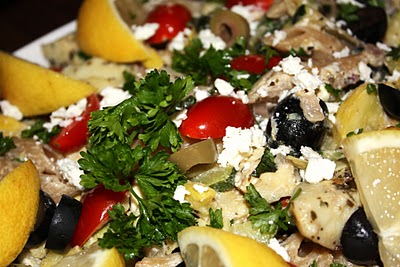 Ingredients:
1/2 pound whole wheat penne pasta, uncooked
1 tablespoon olive oil
3 cloves garlic, minced
1/2 large red onion, chopped
1 zucchini, cut into 1/4-inch rounds and quartered
1 yellow squash, cut into 1/4-inch rounds and quartered
1 14-ounce can marinated artichoke hearts (you can chop these if you want – I leave mine as is, because I don't really care for them – just easier for me to pick out 🙂
1 cup cherry or grape tomatoes, halved
1/2 cup green and/or black olives, sliced
1/2 cup crumbled feta
3 tablespoons fresh lemon juice
2 teaspoons dried oregano
2 tablespoons fresh basil, chopped
2 tablespoons fresh parsley, chopped
salt and pepper to taste
optional: lemons for garnish
Directions:
1. Cook pasta according to package directions in salted water.
2. While pasta is cooking, heat olive oil in a large skillet over medium heat.
3. Saute onions and minced garlic until the onions begin to turn translucent. Then, add in the zucchini and yellow squash and cook until tender.
4. When the pasta is done, drain well, then return to pot over medium-low heat. Add in sauteed vegetables, and all of the remaining ingredients. Season to taste. Heat until the feta has melted and all of the ingredients are heated though. Garnish with lemon.