Oh, hello there Heaven in my Mouth.
I got this recipe from our friend, and fellow pumpkin lover, Shalynna. I'm a sucker for anything cake mix or pumpkin – so when she told me about this recipe that used BOTH I just had to try it. Thanks so much for sharing your recipe!!!
Cake Mix Pumpkin Bars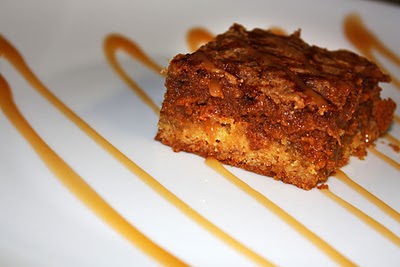 Ingredients:
Crust:
1 box yellow cake mix (not the kind with pudding or butter recipe)
*RESERVE 1 CUP FOR TOPPING
1/2 cup melted butter
1 egg
Filling:
16 ounce can pumpkin
2 1/2 teaspoons pumpkin spice (or 1 teaspoon cinnamon, 1/2 teaspoon ginger, 1/2 teaspoon nutmeg, 1/2 teaspoon cloves)
1 1/2 cups brown sugar
2 eggs
5.3 ounce can evaporated milk
Topping:
1 cup reserved cake mix
1/4 cup sugar
1 teaspoon cinnamon
1/4 cup melted butter
Optional:
Caramel sauce
Whipped cream
Directions:
1. Preheat oven to 350 degrees. Spray or grease a 9×13-inch pan.
2. Mix all of the crust ingredients together, making sure to reserve 1 cup of the cake mix for the topping. Spread evenly in bottom of pan.
3. Mix together all of the filling ingredients, pour over crust.
4. Mix together all of the topping ingredients, crumble over filling.
5. Bake in preheated oven for 45-55 minutes.
6. Let cool, then refrigerate until completely chilled (at least 6 hours). Serve alone, or with caramel sauce and/or whipped cream.
Thanks again, Shalynna!!