This is my favorite way to dress up a sandwich – inspired by Red Robin's bruschetta chicken sandwich (yum!).
Balsamic Pesto Sandwich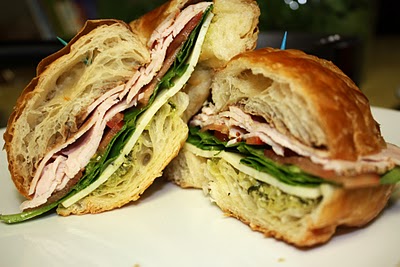 Ingredients:
1 cup packed basil leaves
3 cloves garlic
olive oil
1/4 cup heavy cream
1/4 cup balsamic vinegar
bread, meat, cheese and veggies
Directions:
1. In a food processor, blend together basil leaves, garlic and enough olive oil to bring the pesto together. (Or cheat and buy pre-made pesto. But, trust me – it will not be nearly as good!) Spread on one half of bread.
2. In a small bowl, mix together cream and balsamic vinegar. Spread on other half of bread.
3. Top with veggies, cheese, and meat. Serve immediately – the dressings on the bread will make for soggy leftovers!
This will make about 4-8 sandwiches, depending on how much pesto and balsamic cream sauce you like and how big of bread you are using! Both the pesto and cream sauce will keep in your fridge for at least a week, so make some extra for lunch in a few days too!
My favorite way to eat this type of sandwich is just like Red Robin makes it – on a Ciabatta with grilled chicken breast and provolone. In the picture, I tried it with turkey breast on a croissant with Havarti (obviously, after a "pregnancy craving" induced Costco trip) and it was great too!