I really don't know how I could have made it through the last month of this pregnancy without Lindsay's recipe blog. I keep having these cravings for something that I can't quite figure out, until I read her blog!! Linds and her mom are a few of the best cooks I know, next to my mom of course. 🙂 Everything they make is SOO delicious (and beautiful too!). Their family recipes are definitely part of my permanent collection.
I saw this recipe on Linds' blog the other day, and I knew I had to make it. This is my version of her version of Giada De Larentiis' recipe. Probably one of the best vegetarian sandwiches I have ever had!
Grilled Vegetable, Herb, and Goat Cheese Sandwich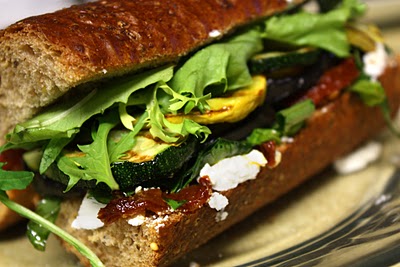 Ingredients:
1/2 cup sun-dried tomatoes in oil, drained and chopped (I LOVE Costco's sun-dried tomatoes!)
1/2 cup chopped fresh basil leaves
2 tablespoons fresh thyme leaves
1 clove garlic, minced
1 zucchini, sliced into 1/4-inch rounds
1 yellow summer squash, sliced into 1/4 inch rounds
1 eggplant, sliced into 1/4 inch rounds
2 tablespoons olive oil
1 yellow onion, diced
2 tablespoons butter
2 tablespoons balsamic vinegar
1 10-12 ounce baguette, sliced in half lengthwise (I used a multi-grain, I prefer it over white)
1 cup (6.5 ounces) goat cheese, at room temperature
1 cup arugla
Salt and pepper to taste




Directions:
1. Place a grill pan over medium-high heat or preheat a gas or charcoal grill.
2. Brush zucchini, yellow squash, and eggplant with a light coating of olive oil. Salt and pepper to taste. Place the vegetables on the grill pan or grill and cook for 3 to 4 minutes on each side until tender.


3. Saute onions in butter in a small skillet over medium heat until translucent and soft. Add in balsamic vinegar, and cook a few more minutes until reduced.


4. In a small bowl, mix together garlic, sun-dried tomatoes, basil, thyme, and salt and pepper to taste.
5. While the vegetables continue to cook spread the goat cheese over one half of the baguette. Top with the sun-dried tomato mixture, then the grilled vegetables and caramalized onions. Finally, top with arugla.
6. To serve, cut the baguette into 4 sandwiches. Serve immediately or wrap in parchment paper and refrigerate for up to 2 hours.